To enquire about Rates & Availability, please go to the Contact section or call the Phone numbers listed.
Newly built country cottage nestling in a quiet country setting with panoramic views of the Atlantic Ocean.
Crohy Cottage
Self Catering Cottage
If you are looking for something a little bit special, this is it.
This 3 bedroom cottage is lovingly designed and furnished with a continental feel and situated in a beautiful, unspoilt area overlooking the Atlantic Ocean.
This cottage is located along the geographical and historic splendour of Crohy Head and resides in an idyllic area known as Falmore. Situated in the Donegal Gaeltacht, the name Falmore was derived from the Gaelic words 'Aill Mhor' which translates directly to 'Big Cliffs'.
The entrance hallway with its cast iron staircase and knotty pine flooring confirms that the emphasis is on high quality furnishings. This leads onto the open plan Lounge, dining room and kitchen which features the spectacular focal point of a central open Fireplace with wood burning stove. Each of the bedrooms are en-suite and are thoughtfully decorated with the finest pine furnishings for your comfort. The large private outdoor area allows for pure relaxation listening to the sound of the Atlantic Ocean, with unrestricted views and/or area for children to play.
Located in a secure, quiet location this cottage is ideally suited to families, adventurers or to people just wanting to get away from it all. The village of Maghery is 1 mile away where you can enjoy watersports, beaches, heritage and the conveniences of the pub and community centre. The town of Dungloe is 5 miles away with many shops, bars and restaurants. The location is also an ideal base for outdoor pursuits, fishing, golfing, walking or touring Donegal.
We hope you enjoy your time in Donegal and take time to savor its many delights. Your first visit will certainly not be your last.
Crohy Cottage – 'Exploring Donegal in Comfort'
There's no place like it! Dream. Explore. Discover.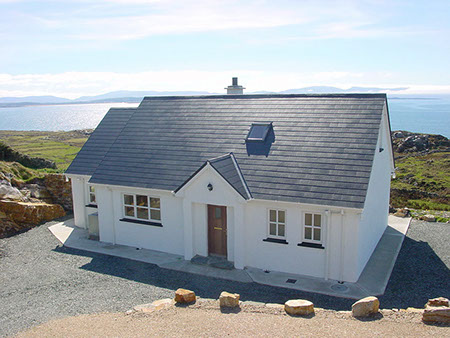 Cottage Specifications
3 en-suite Bedrooms
Dining Room
Kitchen
Living Room
Utility
Toilet
Including: Television, Dishwasher, Fridge Freezer, Microwave, Washing Machine, Tumble Dryer, Oil Fired Central Heating, Open Fire.
Cot/Highchair available on request.
Things to do
Maghery Coastal Adventures offers both the local and the visitor, the opportunity to explore this beautiful area and participate in numerous exciting activities such as Stand Up Paddle Boarding, Kayaking, Snorkeling, Surfing, Hillwalking and recreational Cycling – both on and off road.
Hillwalking
Gain the confidence to explore some of the finest mountain scenery in Ireland that is situated right on our doorstep. Our walking programmes will cater for all abilities.
Kayaking
Explore Dungloe Bay, its many islands and large resident seal population or join one of our programmes in Kayaking Skills 1 & 2.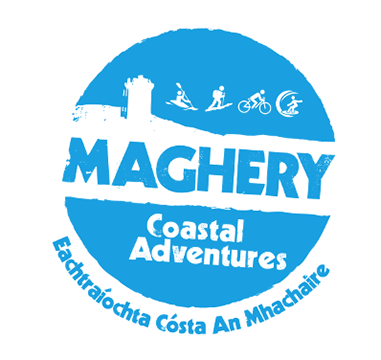 Cycling
Cycling is an excellent way to experience the quiet backroads and numerous established cycle routes that cater for all abilities. We aim to provide basic skills programmes and safety events for children.
Snorkeling
Discover the surprising variety of sea life that is to be found off the beach in Maghery. Learn the fundamentals of snorkeling with qualified instructors.
Stand up Paddle Boarding
Stand up paddle boarding or SUP is one of the fastest growing sports worldwide with a wide range of health benefits. It is also great fun.
Surfing
One of the most popular watersports in Ireland. West Donegal is an ideal location to develop the necessary skills to required to become a competent surfer.
Maghery Bay Salon
Maghery Bay Salon is a unique salon that consists of a boutique hair salon, a beauty and body clinic and a seaweed bath room, as well as a relaxation room upstairs with a stunning view of Maghery Bay.
Brian Roche has been hairdressing for 24 years and has worked in top salons in cities such as New York, Sydney and Galway. He is now bringing his skills and experience to Maghery village with the opening of his very own space.
Brian's passion for hair extends to all things natural - hence the unique combination of hair salon with seaweed baths, using Maghery Bay's natural resource of seaweed.
Opening Hours :
Tuesday : 10.30am - 6pm
Wednesday : 10.30am -6pm
Thursday : 10.30am - 7pm
Friday : 10.30am - 7pm
Saturday : 10.30am -5pm
Sunday & Monday: Closed
Earlier or Later appointments can be requested.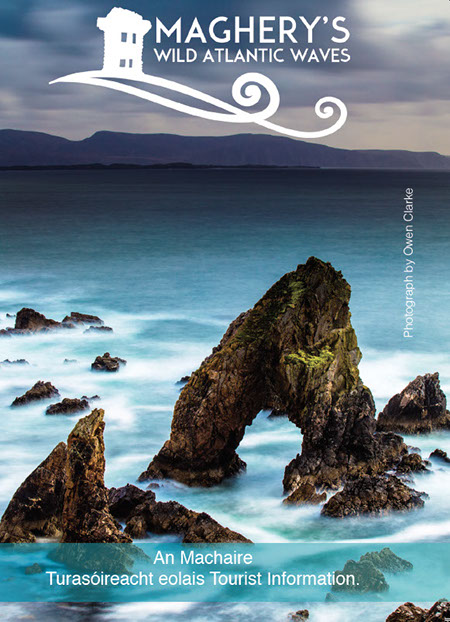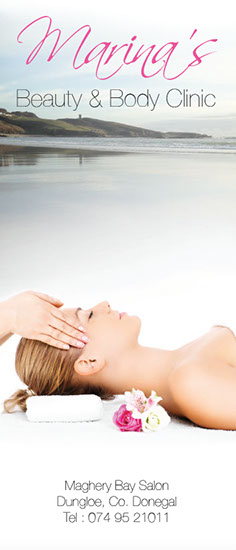 An Mhachaire Le Cheile Teo.
Is a community development not-for-profit making organisation with a remit to provide social, cultural, educational & recreational facilities for Maghery & surrounding areas.
Ionad An Mhachaire is the central hub of the community and provides activities for all ages. During the months of July & August Bialann Chróine (Crone's Café) opens to the public.
The Maghery Art Exhibition runs for the first two weeks in July, Children's activity camps start on the 2nd week in July, the Maghery Festival opens on the first Thursday in August.
The Community Centre caters for all types of gatherings.
For more information call
074 9522724 / 087 7733203
facebook Ionad an Mhachaire.
MAGHERY IS PART OF THE TIDY VILLAGE INIATITIVE
PLEASE DO NOT LITTER
Dungloe & The Rosses
Dungloe Town - An Clochán Liath - on the Wild Atlantic Way is situated in the heart of the Donegal Gaeltact and the Capital of an area known as The Rosses. In Town you can avail of banks, credit union, hospital, Garda station, tourist information, buses and taxis. There are pubs, convenience stores, chemists, supermarkets, cafes, restaurants and The Waterfront Hotel. 'The Cope' situated on the main street was Dungloe's indigenous community co-operative society established in 1906 – Departments – Mens, Ladies, Hardware, Supermarket and 'An Club Beag' a children's indoor play area. Charlie Bonner & Sons on the Bridge – supplies all you need for fishing our 130 lakes or along the shore. They also supply toys and souvenirs'.
You can also visit the famous Daniel O'Donnell Visitor Centre just next to The Stepping Stone Bar a permanent celebration of his incredible life.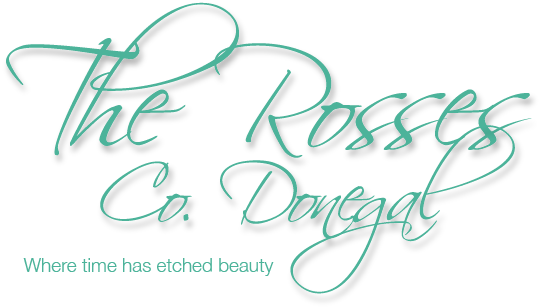 To see all the Dungloe & the Rosses has to offer why not visit The Rosses.ie website.
www.therosses.ie
Getting there
As you enter the town of Dungloe you will be facing the 'Bank of Ireland'. Turn left going up the Main St for 20 yards and then turn right at 'The Midway Bar'. This road takes you to a village called Maghery, which is approximately 4 miles. Drive through the village and set your mileage clock to zero as you drive past the Maghery Bay Hair Salon & Seaweed Baths. You will drive by the Crohy Tower on route and 1.3 miles later, you will arrive at a Y-junction at the entrance to the unsigned village of Falmore. Go right here and 0.15 mile later turn left up a gravel road and Crohy Cottage is to your right.
Proprietors: John & Nuala Bonner
Falmore, Maghery, Dungloe
Co. Donegal, Ireland
+353 75 42008
+353 86 8368978
Proprietors: John & Nuala Bonner
Falmore, Maghery, Dungloe
Co. Donegal, Ireland
Nuala +353 086 8373983
John +353 086 8368978